SDAHC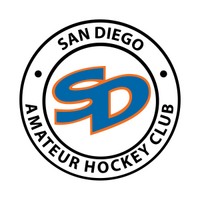 The San Diego Amateur Hockey Club (SDAHC) has sponsored youth hockey and the SD Jr. Gulls for over 60 years. The SD Jr. Gulls are the largest and most successful hockey league in San Diego. The San Diego Amateur Hockey Club (SDAHC) is an independent, non-profit organization with the purpose to promote and enhance the SD Jr. Gulls hockey program.
Young athletes should only be limited by the size of their dreams and the depth of their commitment, and not by the availability of resources. The exposure of youth hockey programs and teams in southern California continues to rise however it still remains one of the most expensive sports in this area. This is where the SDAHC strives to help.
WHO ARE WE: The SDAHC partners with the SD Jr. Gull's organization by providing support to the coaches, managers, players and families. Throughout the regular season, we host Jr. Gull's events, assist with fundraising opportunities, and advocate league success. Our hockey families come from communities like Escondido, San Marcos, Vista, Oceanside, Carlsbad, Orange County, Poway, Rancho Bernardo, Rancho Penasquitos, and the greater San Diego region.
WHAT WE DO: The SDAHC provides assistance in the following areas:
•

Team manager oversight — coordination and direction of manager activities, monitoring and accounting of team bank accounts, and help with sponsorships.
•

Fundraising/Sponsorships - provide a non-profit structure for sponsors to support club financial needs, actively elicit corporate sponsorships and grants, and provide venues for individual team fundraising.
•

Player Development / Team support — direct assistance in offsetting the financial burdens of travel hockey by funding player development clinics, operational team costs, elite travel team needs, and equipment on and off the ice.
•

SD Jr. Gull's communications and spirit — provide recognition for player and team successes, consistent club updates, and promote team unity through sponsoring events annual events.
CLUB CULTURE: Teamwork, integrity, excellence in performance, solid work effort, respect for education and each other, and community give back are just a few of the values built into our JR Gull programs.
HOW YOU CAN HELP: Currently, SDAHC is funded solely by individual and corporate donations as well as potential grant funding from other sources. If you are a corporate or small business, you can become involved by sponsoring our club, an individual team, or providing donations for one of our events. We are always looking for new ways to raise money for our players. Anyway, you can contribute will aid us in the continued growth of youth competitive hockey. Please contact SDAHC President, Yosina Lissbeck <sdahc00@gmail.com>, for all sponsorship or donation questions.
If you're interested in learning more about SDAHC or joining the board please contact Yosina Lissbeck <sdahc00@gmail.com>.
SDAHC Members:
Yosina Lissbeck, President
Jen Dooris, Special Events Coordinator
Tori Riley, Manager Liaison