Coaches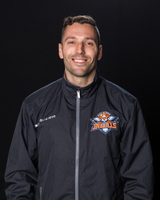 Jon Parker
Head Coach Squirt BB (2)
E-mail:
Jon Parker a native of San Diego started his hockey career at the age of 6 years old. Jon started with roller hockey making the transition to ice soon after. At the age of 8 he played for the Jr. Kings in the what is nicknamed the future of the NHL the BRICK tournament. Locally playing in San Diego Jon won a State Championship playing for the La Jolla Jaguars in 2002. In 2006 Jon joined the LA Selects in what would be a break out year. His team finished the season ranked #1 in the country along with winning the National Championship. Jon led the nation in goal scoring throughout the season going onto leading the national championship tournament in goals and points. That summer Jon was drafted 1st round 1st overall to the Chilliwack Bruins in the WHL US Draft. In 2008 Jon signed a contract with the Seattle Thunderbirds of the WHL to start his Major Junior career. His rookie year in the WHL he finished top 5 in rookie scoring finishing with 17 goals and 39 points. In Jon's last season in juniors playing for the Prince Albert Raiders turned into a record setting season. Jon led the Raiders to their first playoff berth
in 5 years
, in doing so he was the highest scoring raider in over 10 years. Putting himself in the record books for the most goals and points in a season by an American born players with likes of NHL Hall of Famer Mike Modano. Just finished the season with 45 goals and 86 points.
In the off season of 2011 Jon signed a 3 year NHL deal with the Buffalo Sabres, being the first modern born and raised San Diego native to do so. In his first professional season Jon led the whole AHL in shootout goals and shooting percentage going a 100% in all 5 attempts. In 2014 Jon was traded to his home state team the Los Angeles Kings who went onto becoming Stanley Cup Champions. Jon started the following season playing for the Malmö Redhawks in the Swedish Elite League before coming back to play in North America. Jon Played 2 more seasons before retiring in 2016 making stops with the Chicago Blackhawks organization, San Jose Sharks organization and Montreal Canadians organization.
Jon is very excited to coach and develop the next wave of young players coming up through San Diego hockey. Jon resides in downtown San Diego, he is a full time Real Estate Agent.